Buy any 2 Beds, from Discovery World Furniture or Resort Life, and receive an Automatic $100 OFF your purchase price! Mix and match either brand.
Buy 3 Beds and Get $200 Off!
Buy 4 Beds and Get $300 Off!
Buy 5 Beds and Get $400 Off!
Buy 6 Beds and Get $500 Off!
Buy 7 Beds and Get $600 Off!
get the picture? Buy up to 9 beds and get $800 off the entire order shipping to same address
That's over 10% off in some cases on our already very discounted prices. No codes, no gimmicks, just deals, plain and simple.
Contact our Sales Department if you have any questions on product eligibility:
1 (800) 906-2865
This offer applies to most beds. However, it cannot be used in conjunction with package deals, or other special offers. Just check your cart to see if the discount is automatically applied!
MEN AND WOMAN'S SHELTERS
VETERANS HOMES/SHELTERS
CHURCH CAMPS
YOUTH SHELTERS
FRATERNITY HOUSES
SUMMER CAMPS
FEMA HOUSING
STUDENT HOUSING
PHARMACEUTICAL TESTING FACILITIES
SORORITY HOUSES
We have thousands of bunk beds IN STOCK.
We can ship orders 48-72 hours after payment.
No sales tax collected from charities or any order that ships outside the state of Florida.
All major credit cards, Paypal, and wire transfers accepted.
We also sell mattresses in bulk, which will be shipped with your bunk beds.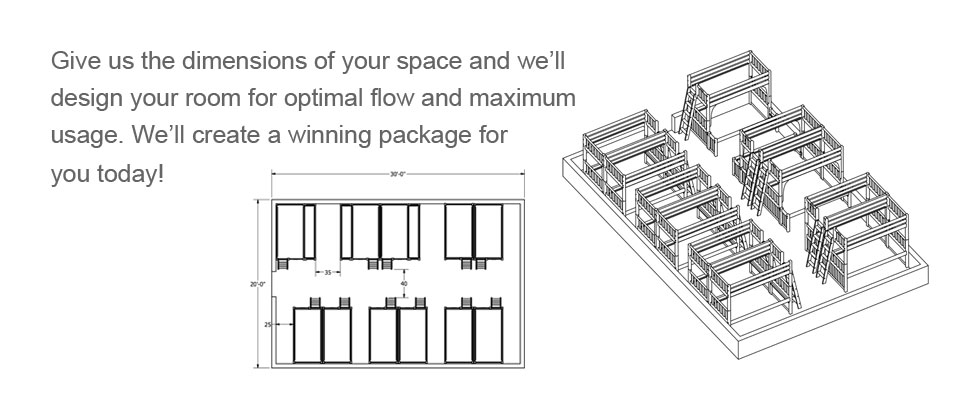 Buy in bulk; we have a large inventory. Get a quote for 5-10 beds, 10-25 beds, 25-50 beds, or 100+ beds.
Call NOW 1-800-906-BUNK (2865)