Please read the following information regarding refunds.
Cancelations/Returns
- You may cancel your order by phone within 24 hours of placing it without penalty, UNLESS your order has shipped. Once your order has shipped, the order may still be canceled, but not without penalties. The cost to return the order to our warehouse from it's current location will be deducted from the original amount paid/charged to your credit card, as well as any shipping fees paid to get the product to the location from which it was returned. (Shipping there and back will be deducted).
- There is a 30% restocking fee for all returning items in addition to freight charges - no exceptions. Please note, that if you have already unpacked the item, then wish to return it, it will be subject to inspection once we receive it, and you will be responsible for any damages. If there is damage, you will need to file a freight claim directly with the shipping company in order to recoup any losses.
- All items to be returned must be in their original packaging and shipped within 7 (seven) days of receipt of merchandise by you. Merchandise sent as postage or freight charge due will be refused.
- Orders ship periodically all day long. You will be emailed shipping and tracking instructions that same day or the following work day.
- What is buyers remorse? Buyer's remorse is when the buyer has an emotional response after entering into a sales agreement, which may involve feelings or regret, fear, depression or anxiety. Actionable Buyers Remorse that leads the buyer to cancel the transaction after the order has shipped by email, voice mail, or simply trying to ignore the contact efforts made by the shipping company OR representatives from FactoryBunkBeds will result in the card holder being responsible for ALL shipping costs or the return freight to FactoryBunkBeds warehouse, reconsignment fees, reshipping fees, restocking fees and merchant services charges.
- Buyers remorse may also include disputes between the ordering party and the shipping company. Conflicts will require that both parties work together to accept and deliver the order in the way the order was placed. Extra services requested after orders are shipped cannot be changed after orders ship and does not merit order cancelation, this will still be considered buyers remorse. Customers must make arrangements to be available to accept order during business hours Monday - Friday unless weekend or after hours delivery was set up and paid for before the order was shipped and in that case must be available during those hours / times.
- Because all products are redesigned ever couple years there can be several versions of each bed as well as simple design changes, hardware changes and assembly requirements. The product dimensions, color and design will still be the same as the picture but there could be different materials and of hardware in the bed you receive. This could include metal vs wood slats, or wood vs metal slats these are interchangeable and will not affect the integrity or look of the bed once assembled. Any differences from the continually evolving beds designs cannot be a reason for returning items, just as changing assembly requirements is also not a reason to return beds or case goods.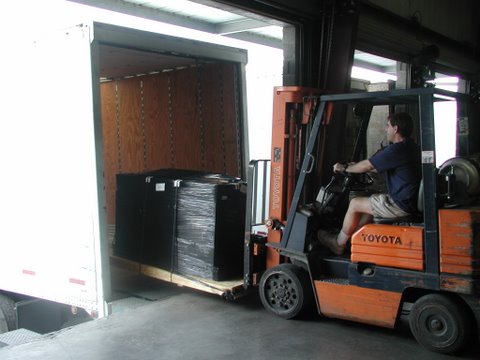 - We use several different shipping companies and it is their policy to contact you by phone to schedule deliveries, this does not stop you from being proactive and calling the freight company to ensure a time and date that is convenient for your party, as you will need to sign for and inspect all the boxes on your pallet.
- Failure to answer shipping calls may result in storage fees charged by the shipping company.
- Refusal of undamaged shipments or failure to respond to or answer calls from shipping companies that result in a furniture return will result in our return policy where all cost including re-stocking will come out of the original order payment before any refund will be issued.
- In the outside chance that there is shipping damage, we will arrange to either repair or replace, in our sole discretion, of products, which do not conform to the manufacturer's specifications.
- Customer will be responsible for packaging merchandise in the event original packaging is not available or was discarded by customer. Items being packaged by customer must be packaged in a manner suitable for transport.
- It is the customers duty to inspect and count all boxes before signing the bill of lading. If you see product damage or major box damage then you need to notate this on the Bill of Lading. If you do NOT notate freight damage, then you are accepting the order in good condition. This means that the shipping company is released from any damage liability or responsibility for paying damages or replacement parts. We can still ship replacement parts, but the manufacturer will scrutinize the parts request more than they would when the shipper is paying for the parts. Secondly we will still ship replacement parts, but there will be no refund partial or full, if parts are shipped. On the contrary if the damage is not bad, or able to be repaired with a touch up kit, you can ask for a discount in lieu of parts to keep the order AS IS. Accidents do happen, and damage may occur during shipment. While we will do our best to take care of the issue to deliver you the product you ordered as expected, we are not able to over night parts or compensate for your time to set up or replace parts.

- ALL Missing Boxes, PARTs and shipping damaged claims must be started within 48 hours of delivery in writing (email). Shippers give us a 2 business day max to find missing boxes and parts. The best way to start a claim is to reply to the Shipping Email and state the issue. The 2nd best way is to reply to the original order email stating your issues (missing boxes, missing parts, or notated shipping damage.)
All Replacement Parts Orders are final, there is no option to return a part order. Please make sure that you select the correct SKU #, PART # and COLOR before placing your order online. PART ORDERS cannot be done by phone. Before ordering parts make sure to look at your original order email to make sure you know the make and model / SKU #. If your original order was made directly with FactoryBunkBeds.com we can try to look up the original order for you and email a copy before you finalize you online order.
Please Call Us with Any Questions Regarding this Policy.
If you are having difficulties with your product please contact us. We'll get back to you as soon as possible!