SHIPPING TIME GUESTIMATE CHART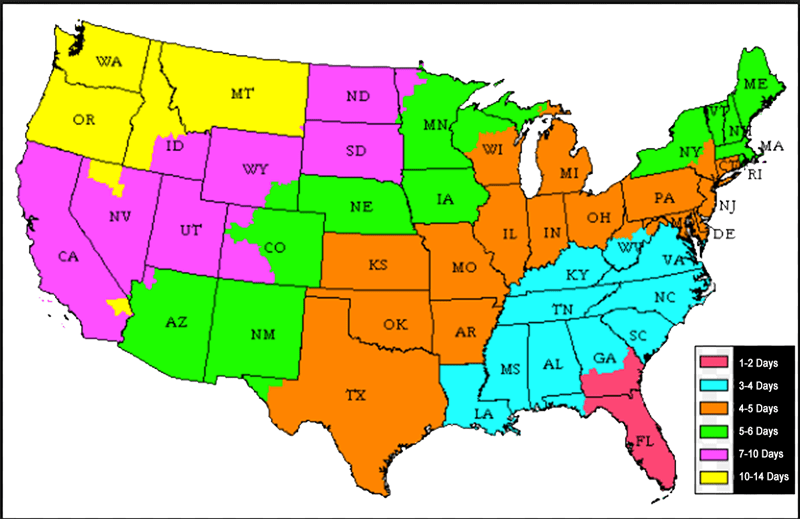 * Note, above: Shipping times are BASED ON HISTORIC DATA for Discovery World Furniture order only.
Because furniture deliveries are done by appointment, they must be scheduled in advance by the shipper directly with you, the customer.
To ensure a smooth delivery, make sure that you give us your 2 best daytime phone numbers so the shipper can call to schedule your delivery.
If the shipper cannot reach you by phone, then the delivery cannot be scheduled, and it will delay your furniture's arrival.
Brand Shipping Times:
Discovery World Furniture orders ship out of our Sanford, FLORIDA warehouse usually within 1-2 business days…or in 1 business day if you pay for HOT RUSH.

DONCO orders ship from Fort Worth, TEXAS usually in 2-3 business days … or in 1-2 business days if you pay for HOT RUSH.

RESORT LIFE orders ship out of Chicago, ILLINOIS, is a special order, and can take anywhere from 10-15 business days to ship, and several more days to arrive. NO HOT RUSH is available for Resort Life.

Atlantic Furniture orders ship from 1 of 3 locations: MA, CA or GA, and usually take 7 days to process and ship. NO HOT RUSH is available for Atlantic Furniture orders.
Orders Can Be Delayed For The Following Reasons:
If your billing address is different than your shipping address, then you will be asked to verify order with ID, and this can slow down shipping time.

If your phone numbers are not current, you screen your calls, or your voicemail is full or not set up, this can slow down shipping time.

If your area is experiencing bad storms, flooding, hurricanes, or blizzards, this can slow down shipping time.

Trucks sometimes do break down, traffic accidents can cause traffic jams, and road maintenance can also slow down delivery times.
Stay proactive and do not be afraid to call the shipping company directly to get updates and confirm appointments or shipping statuses.
This Is The Typical Order Fulfillment Process:
Once your order is picked up from our warehouse, we will email your the shipping and tracking information.

You will be able to track your order at the shipping company's website 24 hours after the order is picked up.

If you are proactive and call the shipping company, once your order is in your state. you can shorten the shipping time!
Land On or After and Scheduled Delivery Times:
IF you select a LAND ON or AFTER Deliver Date at check out, we will do our best to have the order in your area just before that date.
Ultimately it is up to YOU, the customer, to schedule the delivery with the shipping company directly by phone. This is NOT a guaranteed delivery date.
The
LAND ON or AFTER Deliver Date option is only at best, a delivery ON or AFTER date so your order does arrive too soon. Missed delivery dates "on or after" do not give customers the right to cancel orders or the rights to a refund. If you miss your scheduled delivery appointment, the shipper most likely will charge you a re-delivery charge.