The following applies to all orders:
1. Terms and Conditions:
PLEASE READ THE FOLLOWING TERMS AND CONDITIONS OF USE CAREFULLY BEFORE USING THIS WEBSITE. All users of this site agree that access to and use of this site are subject to the following terms and conditions and other applicable law. If you do not agree to these terms and conditions, please do not use this site
2. Information Accuracy
We use reasonable efforts to include accurate and up-to-date information on our Web site, but we make no warranties or representations as to the accuracy of the information and accept no liability or responsibility for any errors or omissions in the content of the Web site. We have all of our products professionally photographed and represent as best we can our products. It is for this reason that we cannot offer full refunds due to style issues or buyers remorse. Photographs and color charts displayed on our site are for general information only and can vary considerably from the actual color of the product. When purchasing any natural product such as wood or leather there are variances in the finish, we strive to maintain the highest quality of product in this price range but there may be subtle differences due to woods natural veining, knots etc. therefore we do not guarantee color, tone, shades or finishes on any item. If you are trying to match items with other items you already have, you must do so at your own risk. If a product is inadvertently listed at an incorrect price, we may refuse to accept your order or may cancel your order at any time. FactoryBunkBeds.com will contact you before proceeding with your order to give you the option to pay the correct price or cancel. A full refund is your sole remedy for orders canceled by us.
3. Ordering
Acceptance of an order either placed online by you or via a telephone representative working for or on the behalf of FactoryBunkBeds.com is provisional and it becomes final once the order is placed. Item availability and price of products offered for sale at the Web site are subject to change without notice, including the updating of our online catalog. As soon as you place your order be it online or over the phone, we begin to process that order. Once we start processing and packing the order (usually within 2 business days) we are unable to cancel or change that order without penalty. It is your responsibility to review the order confirmation and advise us if there are any corrections to be made in regard to delivery address, item, color or prices. If no response is received within 24 hours, the order will be deemed accurate and as you requested. If you do not receive a confirmation, you must contact us by phone or email so that we can re-send another copy. Orders will be processed and are non-cancelable even if there is no response after the confirmation has been sent. Payment of the full purchase price must be made upon the acceptance of this agreement because of the one-of-a-kind nature of the purchase and/or because of the customization involved, no refund or replacement will be feasible should your selection prove unsatisfactory. FactoryBunkBeds.com accepts MasterCard, Visa, Discover, American Express, and money orders. We do not offer C.O.D. terms and money orders must be agreed to by phone prior to placing the order. As we pack, stage and ship in 24-48 hours (business days) in most cases we do not sell out of stock items, in the case of multiple orders coming in whereas stock runs out FactoryBunkBeds.com will give you the choice to switch finishes, wait for item to become available or void the order. Defective payments are subject to all charges, attorney fees and court costs allowed by statute. Payment in US Dollars only.
4. Cancelations / Returns
You may cancel your order by phone within 24 hours of placing it without penalty. Once your order has shipped, the order may still be canceled, however the process for returns and amount refunded may vary. Please review the entire refund policy for more details.
5. Delivery Timeframes
We are FactoryBunkBeds.com and we have the lowest prices on the web and the fastest shipping process available. We strive to have most orders out in less than 48 hours (business days); orders are packed and palletized usually in 24-72 hours and loaded with our forklifts. (Depending on your location and weather most orders will arrive in 2-8 business days once we load the truck.) We offer upgraded shipping options which may leave the warehouse within 24 hours (business days) as well as same day. Please call to check on same day shipping availability before placing a same day shipping order.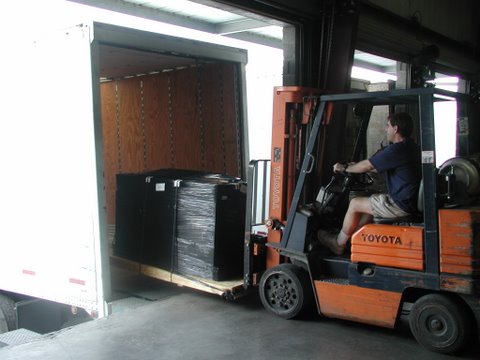 6. Shipping and Handling / Taxes
We offer FREE SHIPPING on select brands and on orders that total at least $449 before tax (Sales tax [6.5%] is added to Florida orders only). If use tax is charged by your state for items purchased in another state, it is your responsibility to report and pay any such taxes. If your order total is less than $449, a $149 shipping charge will apply. Florida locals can pick up from the warehouse Monday thru Thursday between 8-5pm and get a 10% discount off the entire order! Call for details!
7. Shipping Limitations
Since we ship out of Central Florida, if you live on the West Coast, including but not limited to Washington, Oregon or California we may not be able to obtain a direct shipment to your location through any of our contracted freight carriers. If that is the case, we can do one of two things:
- We can use the additional freight carrier to get your product to you, and additional charges may apply for this service. This amount will vary depending on the delivery location and the weight of the order, so we will need to know the exact shipping address and what you plan on ordering. If you feel this may apply to your order please feel free to call and we will run a quote free of charge. In most cases if the over-charge is nominal we will absorb the additional charge and ship as usual.
- You can opt to cancel your order for a full refund.
8. Curbside Delivery
All of our deliveries are curbside, which means the driver unloads your boxes at the end of your driveway or in front of your apartment building. It is the driver's responsibility to breakdown the pallet on the truck and unload the individual boxes off the truck. This is so that you are able to determine if there is visible damage to any of the boxes. He/she may ask for your assistance with a bulky or oversized piece, so if you are physically able, please lend a hand. If the driver refuses to breakdown the pallet or tries to charge you for lift gate service, please call us WHILE THE DRIVER IS STILL THERE. Call customer service at 1-800-906-2865. Drivers are expected to notify you of a delivery time and day and your delivery service options, so you can have the appropriate help available to get purchases into your home if necessary.
It is the responsibility of the customer to inform Factory Bunk Beds of any potential delivery obstacles. The customer understands that typical deliveries are done by tractor/trailers ranging in size from 28 feet to 53 feet. For this reason the customer must inform Factory Bunk Beds of limited turn-around areas, restricted delivery areas, power lines, trees etc. In the rare instance where a delivery cannot be made, the customer agrees to meet the truck at the closest and safest delivery location. This can be the entrance of an apartment complex, a nearby shopping center or even going to the shipping terminal. If delivery cannot be made and the customer cannot meet the truck at an off-site location, the customer will be responsible for all incurred shipping costs.
9. Shipping Locations
FactoryBunkBeds.com can ships outside of the 48 contiguous States (ie. Canada, Alaska, Hawaii) but you are responsible for any and all additional shipping charges and our policy is as is once it leaves the freight forwarding company. Any other costs, duties or VATs must be paid for directly to those parties. You are responsible for making arrangements to get the merchandise from that port or forwarding station to your final destination.
10. Delivery and Damage
Because we box, pack and palletize all of our shipments in house with the anticipation of some rough handling during shipping most damage is prevented. Some wear on packaging is normal. However, accidents do happen; therefore, you MUST inspect your furniture when it is delivered.
IMPORTANT - Inspect all boxes closely when the truck arrives (check for box damage, product damage and piece count). Damage to the box, in most cases, does not mean the product itself is damaged, however, if there is damage to the box it must be determined if the product is damaged as well. You have the right to inspect the product to determine this. If there is damage to the box, but the product is fine, then no notation is necessary. If the product is damaged, the notation that you or the driver makes on the bill of lading must state "Product Damaged" versus "box is damaged" - it is very important that the driver puts his initials next to any damage notations on the bill of lading. If there is ANY DOUBT or ANY CONCERN at all - it is better to be safe and NOTATE. If all damage is documented then the freight company becomes responsible and a replacement part can be immediately shipped out (via regular freight delivery service).
DO NOT REFUSE THE SHIPMENT - in most cases there will be only one or two parts damaged. It is much easier and quicker to UPS the replacement parts while the remainder of the product waits safely at your destination.
If you do not properly report the damage, defect or deficiency at the time of delivery, we will not be able to assist with later claims. If properly notated NO extra charges will be incurred. If the delivery personnel can correct the problem, it will be taken care of immediately. If not, the shipper will return the item for repair or replacement, at our discretion and then be redelivered to you. You will not be charged for this redelivery unless the merchandise was of normal production quality. Customer agrees to accept delivery appointment for any backorders, repairs or replacement furniture to complete the order process. Orders refused for delivery after 3 days will be subject to storage fees of a minimum of $25.00 charge per day. Missing parts and hardware will be shipped out at no cost. It is our goal to keep all of our customers satisfied with their purchase and our service. We may require digital pictures of parts and emails between both parties may be necessary in order to cure issues. We have over 10 years in this business and have maintained a very high satisfaction rate and we are sure you will be happy that you chose FactoryBunkBeds.com for your purchase.
Shipping of Parts – The shipping of any parts whether it be from manufacturer defects, freight damage or simply missing from the box will be shipped out on standard base services offered by UPS, FedEx or common carrier. Any request for expedited services, such as UPS next day air, will be solely at the customers expense.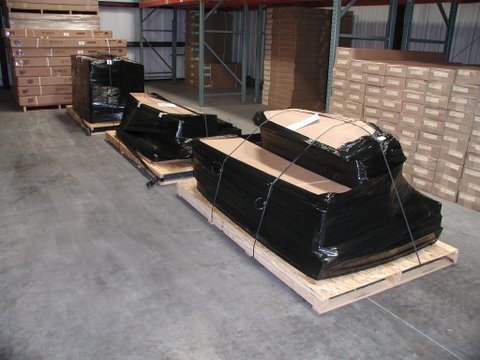 11. Limited Time Offers / Promotions
All sales, special offers, and limited time promotions are available for appointed time periods only. They cannot and will not be applied to sales closed before or after such time periods.
12. Warranty
A warranty, If any, is the warranty provided by the manufacturer, which is generally limited to defects in materials and workmanship. Variations in wood grain, knots, texture, open knots and grain, color variation, panel shifting, random patterns, bleeding, dark end grain and other natural occurring characteristics of wood are not considered defects. All of these are part of the natural beauty that is real wood furniture. If you want more information on the material type that you have selected please consult a member of our staff. In many cases more than one material type is available for the same item. A copy of a particular product's warranty is available from us upon request and may be included with your order.
13. Weather Delays
Sometimes heavy storms may delay shipping. We apologize for weather delays but there is nothing we are able to do in regards to discounts, refunds, or returns once an order has shipped. Shipments and deliveries can be delayed or missed and re-scheduled due to the shipping company's inability to deliver during or after bad weather. You agree to reschedule a delivery if it is missed or delayed due to weather. We understand the frustration that a delayed order creates. Driver safety is the shipping company's 1st priority. We apologize in advance in case your order is affected, but it is not cause for cancelation, and should you decide to cancel a missed delivery, you are responsible for all shipping cost back to our warehouse.
Our company reserves the right to change or modify the Terms and Conditions without prior notice.